Center Staff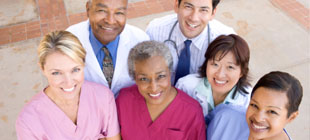 Maryland Care Centers consist of highly qualified personal. Each of our centers are fully staffed at all times with a program director, activities coordinator, registered nurse, nurse assistants, social worker, participant assistants, and transportation drivers. Our other staff members include our physical, occupational and massage therapists. Together, we provide a comprehensive approach to care for members with the goal of achieving a healthier and more active quality of life. Our staff at Maryland Care AMDC is committed to meeting the special needs of the elderly and disabled population, in partnership with the member's physicians, friends, family and caregivers.
Home Environment
Maryland Care adult medical day care centers are approximately 10,000 square-foot facilities with a minimum member capacity of 100 daily, located in Southwestern, Maryland. Maryland Care's newest facility in the area, is estimated to be delivered by the end of the 1st quarter of 2014 providing best-in-class amenities and a comfortable, fresh environment. Our philosophy is to make our home as comfortable as your home.
Center Amenities

Medical Admin Support Center
Our Medical Admin Support Center provides basic medical care and nursing oversight services to ensure participants are receiving daily routine medical needs.
Convenient pick-up and drop-off times
Escorts to medical appointments
Includes service to rural areas
Handicapped-accessible vehicles equipped with emergency communication systems.

rehabilitation Center
Our state-of-the-art Rehabilitation Center provides physical therapy to treat participants who have conditions affecting an individual's ability to move freely and without pain.
Activities Center
Our Activities Center is the focal point of keeping our participants engaged and socialized through fun activities.
Dancing
Shopping
Karaoke Singing
Arts & Crafts
Outdoor Walks
Billiards
Bingo
Games
Music and more!

Kitchen
Nutritious but tasty meals and snacks are served at our center. We will cater to special dietary needs and our menus are in compliance with nutritional guidelines.

Salon & Spa
Maryland Care has a full service Salon & Spa to help your loved ones look and feel their best at all times.
Massage
Nail polish
Aromatherapy
All covered in our Spa as member benefits!