Looking to take care
of your loved ones?
find help, find hope
Maryland Care is an adult medical daycare center (AMDC) located in Camp Springs, Maryland. We offer a safe, protective environment for individuals who are unable to remain alone or to care for themselves. We are dedicated to helping families successfully manage the responsibility of care for their elderly or frail adults living at home while enhancing their quality of life. Our program is designed to give families the peace of mind to continue with their busy lives, as we provide the support necessary, to keep aging parents, health impaired spouses, or disabled family members in their homes; a much better alternative to assisted living and nursing homes.



Our philosophy of care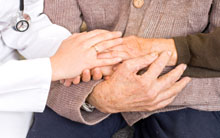 Maryland Care believes that an active mind and body nourishes the soul. Maryland Care's mission is to help families successfully manage the responsibility of caring for an elderly or frail adult who is living at home, while enhancing the quality of life for those individuals in need of care.
services
Social Services
Engaging Activities
Nursing Oversight
Dietary Services
Salon & Spa
Rehabilitation Services
Transportation